Services we Offer
Accommodation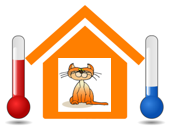 Full Air-Conditioning and
Central-Heating.
Boarding accommodation for cats is in brand new, larger, purpose-designed Standard Condos, Double Condos, Family Condos and large Family Double Condos within a cat-only dedicated chalet building, with alarm system.
The Cattery Chalet has thermostatically controlled air-conditioning and central-heating, to provide maximum comfort for your cat, whatever the temperature outside.
Cats are normally fed twice a day, once in the morning and once in the afternoon or evening.
The standard food that we offer is Iams Dry: Regular, Weight Control, Mature or Kitten. There is a small charge for this, please see our charges page. Alternatively we would be pleased to feed your cat any other food that you supply; please make sure that you bring enough supply for their stay.
Exercise and Play
Cats are given exercise and playtime outside their accommodation at least once each day (more when we are not too busy). We only let cats out together if they are from the same owner.
Medical Care
We can undertake injections for diabetic cats. We do ask that diabetic cats that have not stayed with us previously come in for a short trial at the Cattery before they start to board. Diabetic cats can react in different ways to unfamiliar people giving them their injections, so for the peace of mind of all parties we ask for this trial, normally of two nights. Our normal charges apply for the boarding and for the administration of the trial injections.
We can administer other medications (both tablets and liquids).
Cat Transportation
We offer a Cat transportation service; if you are unable to bring your Cat to us then we offer a home pick-up and drop-off service, also useful if your Cat needs to go to the vets or other appointments etc. Just contact us for a quote.
Further Information
If you require further information, or have a specific enquiry, please contact us.