About Cross Creek Cattery and the Owners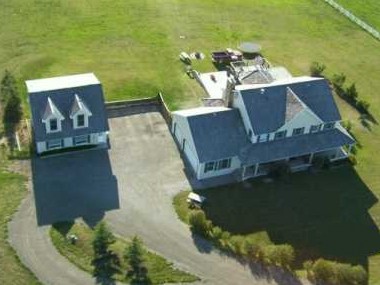 Cross Creek Cattery (left) with owner's house (on right).
Cross Creek Cattery was established in 1993 and has been run by the current owners Steve and Lianne since November 2005. The current owners are life-long animal lovers, and especially cat lovers; both have had pet cats for many years. They currently have their own family of four cats. They feel that it is important to have their own pet cats when running a Cattery, as they treat their guests' cats as if they were their own cats.
The Cattery is a cat-only purpose designed kennel, in its own bright and beautiful, dedicated chalet building, with the added benefit that the owners live on-site in the adjacent house. The Cattery is situated in DeWinton, just five minutes outside S.W Calgary, in three acres of beautiful and professionally landscaped gardens. The gardens attract many birds coming to visit the feeders and wildlife, so your cat will have much to look at outside. Our condos have great window views, so if your cats are chilling out in their condo or out for playtime they will always be entertained - there is no need for T.V here!
The facility is heated and fully alarmed and has temperature sensors to ensure that our guests are always in a comfortable environment. We ensure that cats staying with us get the love and attention that they need and deserve when apart from their owners. We are a home away from home - just like a holiday resort - so your fury friend(s) can have a relaxing time in their own 5-star hotel.
We offer three sizes of purpose-designed wooden condos: Standard Condos, Double Condos, Family Condos and Family Double Condos.
We take regular photos of our fury guests, so check out our "Gallery" tab to see if your cat is there.
We have staff trained in Pet First aid.
Opening Hours
Monday - Friday:  
9am - noon
4:30pm - 6pm
Saturday:  
9am - noon
(Closed the rest of the day)
Sunday:  
9am - noon
4:30pm - 6pm
Public Holiday Periods:  
Varies; please contact us to check when we are open.
Drop-offs and pick-ups  
must be scheduled:  
Following Alberta state policy and guidance regarding COVID-19, we encourage social distancing. Therefore all drop-off and pick-up times must be pre-booked, to minimise customer numbers in our reception areas. Contact us to check when we are open.