Contacting and Finding Cross Creek Cattery
Contacts and Postal Address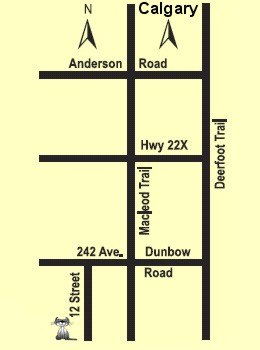 Cattery is SW of Calgary at
southern end of 12th Street West.

Lianne & Steve Brandon
Cross Creek Cattery
Box 158
De Winton

AB  T0L 0X0

Phone: 403-938-5386

Email: info@crosscreekcattery.ca


Finding Us - SatNav
We are situated in a rural location, and as with most such locations, our allocated postcode covers a very large area! Similarly the normal form of our address is not correctly resolved by many SatNav systems. It is therefore not recommended that you use just a postcode or address in a SatNav to find us.
Instead, it is recommended that you:
Locate Cross Creek Cattery on a Google / Bing map on your computer, tablet or phone, using one of the methods indicated below.
Then set your SatNav to that location, using the "Browse Map" or similar feature.
Finding Us - Google Maps
Google Search, Google Maps, Google Earth and Bing Maps 3D (but not Bing Search) all "know" the exact location of our cattery. Just key "Cross Creek Cattery" into the appropriate search box. For Google Search, the first result should be for the cattery, and an adjacent small map (which you can click on) will show the exact location.
Finding Us - General Directions
We are located 5 minutes from SW Calgary off Highway 2a, on 242 Avenue West, opposite Dunbow Road at Heritage point.
From Calgary:
Proceed SE on Macleod Trail SE (aka Highway 2A) until you reach junction with Dunbow Road (aka 242 Avenue West or Township Road 220).
Turn right (i.e. west) onto 242 Avenue West (aka Township Road 220); proceed for 750m.
Turn left (i.e. south) onto 12th Street West. Proceed for 800m.
At end of straight road, Cross Creek Cattery gates are on your right; drive in.
Lianne & Steve Brandon
Cross Creek Cattery
12th Street West
242 Avenue West
De Winton
Finding Us - Directions from Your Home
Cross Creek Cattery is about 100m further on (south-west) from the end point that will be shown on the above directions.
Finding Us - Map
Click for Interactive Full-Screen Google Map
Click for Google Earth Application

(starts Google Earth) Install Google Earth
Finding Us - GPS Address
| | Decimal Degrees | Degrees, Minutes, Seconds |
| --- | --- | --- |
| Longitude:  | -114.01983 | -114° 1' 10.98" |
| Latitude:  | 50.82617 | +50° 49' 34.47" |
Finding Us - Cross Creek Cattery Entrance on Google Street View
Bringing Your Pet to the Cattery
Before bringing your pet to Cross Creek Cattery, please read:

Preparing to Board your Cat at Cross Creek Cattery